Spotlight: What is Help-4-Hep?
Last updated: January 2022
Hepatitis C can be complicated. After being exposed to or diagnosed with hepatitis C, many patients are scared, and have questions. "How can I get treatment?" "What do I do if I can't afford treatment?" "What do my test results mean?"
To better address the questions, and myths, surrounding hepatitis C, we interviewed Denny Simon, Managing Partner of Help-4-Hep, a toll-free support line for anyone looking for information about hepatitis C. If you are interested in learning more about Help-4-Hep, or hepatitis C, check-out our interview with Denny below!
What should I know about hepatitis C?
"Left untreated, hepatitis C can cause many serious health problems. In the United States, hepatitis C is a leading cause of liver transplants, and causes almost 12,000 deaths each year. Fortunately, new drugs (direct acting antivirals, DAAs) can cure hepatitis C in almost 100% of patients. However, for many patients, accessing testing services, care programs, payment assistance, and treatment can be daunting. Often times, physicians and other healthcare workers lack the time and resources to adequately address patient needs and concerns. As the United States continues to combat hepatitis C, organizations like Help-4-Hep play a critical role."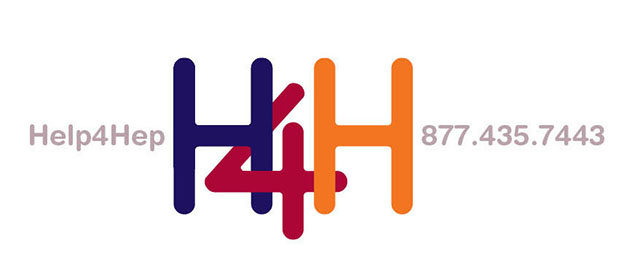 For those in Canada, call or text Help4Hep BC* at 1-855-411-7578.
What is Help-4-Hep?
"Help-4-Hep is a nationwide toll-free telephone helpline. Help-4-Hep answers questions from people who have been exposed to or diagnosed with hepatitis C, as well as the general public. Help-4-Hep is staffed by people who have had hepatitis C and have been cured. These counselors have experienced living with hepatitis C and traveling the road to being cured. Together, Help-4-Hep provides accessible, consistent, quality support for people living with hepatitis C."
Why do people call?
"Since the introduction of direct acting antiviral (DAA) medications, linkage-to-care and financial assistance have become the more prevalent reasons that people call H4H. People call Help-4-Hep seeking assistance in all stages of hepatitis C, including screening, diagnosis, medical evaluation, payment assistance, and treatment.
Callers to Help-4-Hep will find counselors who have specific knowledge about providing linkage to care (such as referrals to doctor or clinics that are experienced in treating and managing hepatitis C) and financial assistance to help pay for treatment. Callers are offered an opt-in service for follow-up; that is, a counselor will call back at appropriate time to help move through the continuum of care."
What role does Help-4-Hep play?
"Many of the 3.5 to 4 million people who are infected with hepatitis C don't know that they are infected. Additionally, many people with hepatitis C feel socially isolated. Through interaction with Help-4-Hep's peer counselors, patients can make informed health decisions and access other important health services.
Community-based services play a vital role in educating and empowering people with hepatitis C. In the US, chronic care models rely on peer-based community resources to help patients learn about disease states, develop self-efficacy skills, enter medical care, and adhere to treatment."
When is Help-4-Hep available?
"The helpline offers these services and counseling and emotional support Monday through Friday from 9:00 am to 9:00 pm, EST for free. Counselors follow a semi-structured, minimally scripted approach, allowing the counselor to meet each caller's individual needs. Calls average 30 minutes, but may vary as needed."
Who can call?
"Anyone! Help-4-Hep will answer questions from people who…
Want to learn about hepatitis C
Have questions about getting tested
Have had a positive HCV antibody test
Have been diagnosed with hepatitis C
Have questions about hepatitis C"
Will Help-4-Hep follow-up with me? Can I call back?
"Linkage to care is a vital component of the Help-4-Hep's work. Before the end of every call, your counselor will offer to arrange a call-back to follow-up on any action plans. Help-4-Hep will also send materials by mail or email, and make referrals as needed.
Follow-up is crucial to addressing each patient's needs, wherever they are. Ongoing follow-up and care linkage helps patients to play an active role in their heath, and if applicable, get tested and get cured. During follow-up calls, your counselor will focus on emotional, problem-solving, and coping skills, as well as improving your health outcomes."
If you have or think you may have been exposed to hepatitis C, or someone near or dear to you is in that situation, or you just have questions about hepatitis C, call Help-4-Hep at 877.435.7443. The call is free, the help is free!
For those in Canada, call or text Help4Hep BC* at 1-855-411-7578. *Please note, Help4Hep BC may be able to provide limited support for people outside of British Columbia. 

Community Poll
Have you taken our In America Survey yet?