The Fine Line 10: Hot Showers and Visiting Hours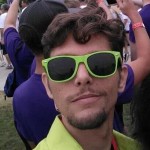 By Rick Nash

·

May 24, 2017
The Fine Line is a series of stories from Rick. Check out parts1, 2, 3, 4, 5, 6, 7, 8, and 9!
---
I had been in the hospital a few days and between the tape, the fluids and the bed sweat I was rank.
One of my CNAs and I had been talking about hair products since I met him a few days prior. I insisted that while argan oil is fantastic for a clean look, I vastly prefer Kukui nut oil. It leaves the hair soft, whips frizz into shape and doesn't look like wet spaghetti.
He helped me shower, which was the first time I'd ever had someone stand outside the shower and awkwardly wash parts of me.  Post shower I felt refreshed. Unfortunately, I made a small mistake, I'm legally blind without my glasses and he handed me my leave-in conditioner instead of my shampoo. I'd realized my mistake as soon as the liquid hit my head. It was too late, my hair looked marginally less awesome.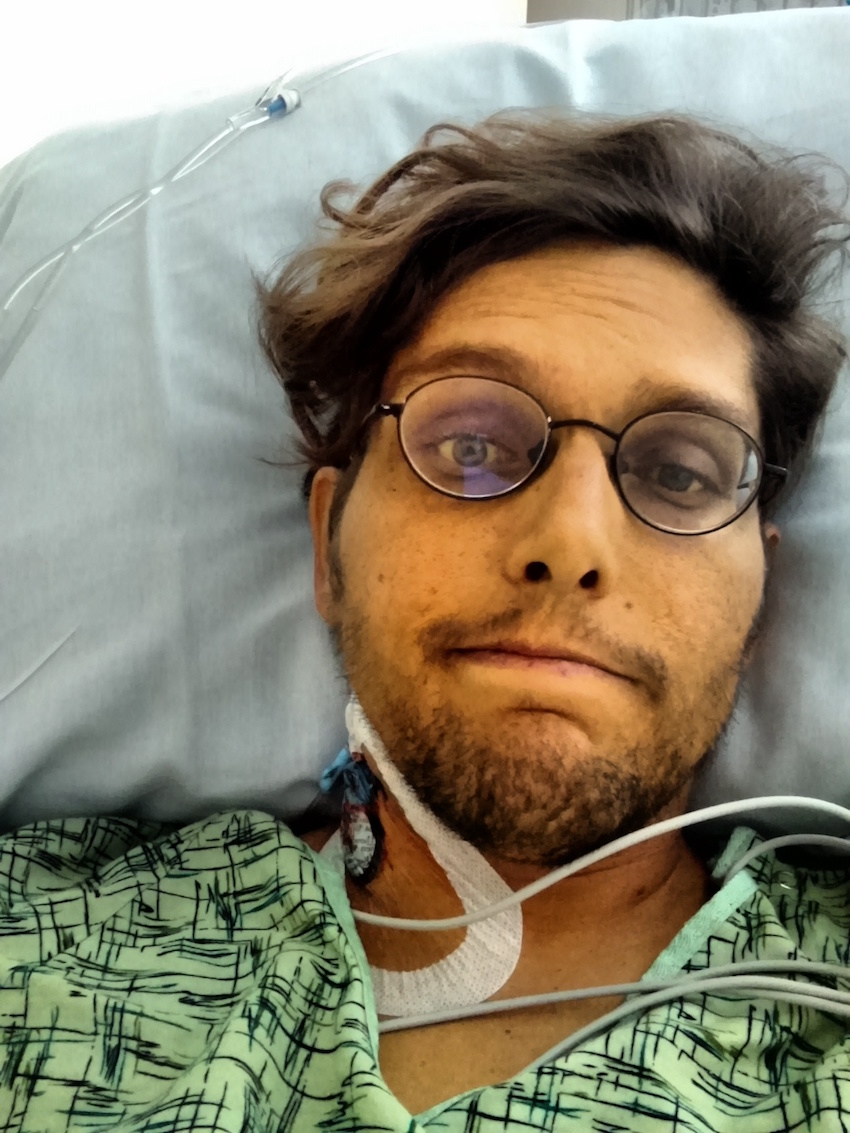 So, back to the bed
The days began to feel shorter and I could tell I was improving. The physical therapist assigned to me was floored when I switched from Paul(my Walker) to Nova( my cane.)
On day four everything changed.
My transplant specialist came in to explain that not only did I have a 35 MELD score, that I was a liver back-up for not one but two potential livers.
I was ecstatic. Unfortunately, not more than an hour later a disgusting odor permeated my room. My mom was quick to comment that I should turn on the fan an close the bathroom door next time. However as she walked into the bathroom she noticed that the smell was coming from the shower. The system was backing up and my bathroom was lightly flooding with sewerage. We notified maintenance right away and they did an assessment.
Not wanting to lose the view from my window, and on a variety of drugs I tried to see if I could stay in that room. They explained that they would be moving me to a different room as soon as one was ready, in spite of my objections.
In the meantime a different CNA came by asking if I was ready for my shower. Unaware of the fate of my bathroom, she quickly found a remedy. I went for a walk around the floor as she got everything prepared.
The community shower was different. Nearly twice the size it was essentially a single bathroom by itself even though it was single occupancy. Unlike the awkward shower I'd had earlier, she wasn't shy about making sure I was set. She prepped extra towels and washcloths she'd soap up and hand to me.  Afterward it was the first time in a lil while I'd felt human again.
Walking back to my room, I found everything ready for the transfer. They took me, bed and all, to my new room. Once I arrived, I tried to learn all the faces and names that would come in. Over the next twenty four hours I would meet fourteen new doctors and a handful of residents.
Every one of them asked me all kinds of questions, wanting to come in for a hot second they would find themselves listening to my seemingly never-ending story, and of what I wanted to do when I recover. I thought it best to let them know my intentions, as a Master's in Public Health is what I yearn to earn.
My new room was also a fluke
The floor was being converted from pulmonary to liver, and the room was originally intended to house two patients. The only downside to my now larger room was the folding curtain which separated me from the particularly noisy occupant next door. He was hard of hearing, and very needy. I try to rely on my nurses as little as possible. If I can do something, I do.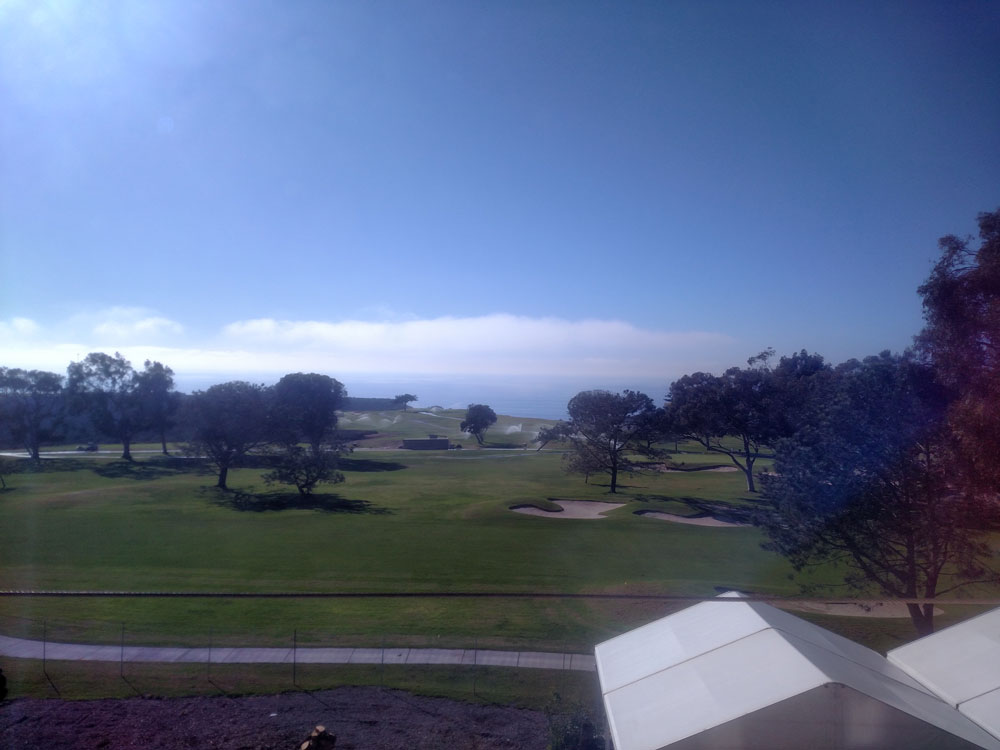 The additional room allowed large groups of my friends to visit. And did they. Each one of them commenting on the even better view than I'd had before. The ocean and torrey pines below my window, sometimes it was hard to believe this was a hospital. But then I'd hear the beep… beep… beep. And I'd be back, waiting for my nurse to change my IV fluid.
It's a penetrating sound and one so familiar, that even outside the hospital in times of confusion, a similar sound can start my heart racing. But the vista in front of me was still there, 80 ft up from the  green before me and the sandstone cliffs which would have a sharp drop to the sea.
When your world looks an awful lot like a cliff, it's nice to know that others will sit beside you on it, and swing their legs.
---
Check back for more from Rick's series "The Fine Line"
This article represents the opinions, thoughts, and experiences of the author; none of this content has been paid for by any advertiser. The HepatitisC.net team does not recommend or endorse any products or treatments discussed herein. Learn more about how we maintain editorial integrity here.