Hepatitis C and Treatment Barriers
Last updated: May 2021
Despite the impact of hepatitis C on one's health and quality of life, 41% of those we recently surveyed had never been treated for their hepatitis C and only 14% were currently receiving treatment.
The online Hepatitis C in America 2015 survey gathered insights from 403 individuals who tested positive for HCV and have been diagnosed with hepatitis C. The study not only asked individuals about their symptoms and diagnosis journey, it also examined quality of life and treatment experience.
Of those who had not received hepatitis C treatment, the most common barriers included worry over not being able to afford treatment cost (36%) as well as worry about the potential side effects of treatment (31%). While cost was a key barrier for those to not seek treatment, it was only a reason for 6% of those who received treatment to cease.
A total of 45% of patients surveyed had been treated in the past and were no longer receiving treatment. Among these patients who had received hepatitis C treatment, 45% had stopped treatment early. The most prominent reason for stopping early was side effects (69%), followed by 48% due to their doctor's recommendation. The most commonly cited side effects were fatigue or weakness (68%) and flu-like symptoms (57%).
Of treatment types ever tried, daily oral ribavirin tablets were the most common form attempted (66%), followed by weekly interferon injections (55%). Among patients who received treatment, 58% had only been treated once. Of the 42% who have been treated two times or more, motivations for receiving additional treatment included new treatments being available, hope that an additional round of treatment would work, and fear of liver cancer and/or death.
Almost half of respondents indicated that they spend less than $500 a year on hepatitis-C related treatments. 24% of patients indicated that at some point in their treatment journey they have avoided using a hepatitis C medication because of cost and 20% have avoided using a hepatitis-C medicine or treatment because of side effects. About a third of respondents were unsure of their treatment plans for the foreseeable future and another 29% planned on exploring other treatment options.
A total of 47% of patients were aware of new hepatitis-C treatments coming to market. While not significant, new treatment awareness did vary based on treatment history, with highest levels of awareness among those currently received treatment.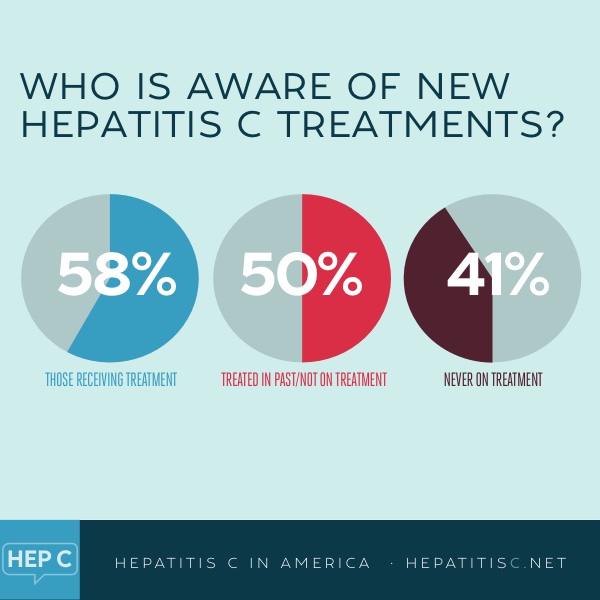 Investigating specific innovative treatment awareness, interferon-free treatment regimens having the highest aided-awareness (70%) among patients. There was a significant difference in awareness of interferon-free treatment regimens between patients who have never been treated as compared to those who have previously received treatment (82% as compared to 60% respectively).
Whereas other new therapies such as triple-therapy regimens reached awareness as high as 41% among the different treatment history groups, there was no significance between them. There was lower awareness of newer treatments such as quadruple-therapy regimen and Ledipasvir (both at 18% across patients).
Treating hepatitis C is critical, but when those with hepatitis C don't experience symptoms, the need to treat is often not understood. Further, while the potential for cure with the new treatments provides promise to those with hepatitis C, the cost of these treatments is a real barrier. It is hoped that with time and additional approvals for treatments to cure hepatitis C, the cost of these drugs will decrease, making them more readily available to a broader population.

Community Poll
Have you taken our In America Survey yet?