Ambulance II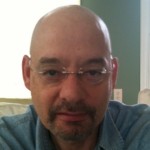 By Transplanted

·

April 17, 2015
When they loaded me into the ambulance that would take me 100 miles to the Transplant Center, I bit my tongue from pain. I tasted blood in my mouth. When I complained to the EMS guy, he explained that my pain came from my lack of body fat – I was so emaciated, there was nothing between my bones and skin to absorb the shock of a flat surface. With no pain medication available, and a hundred miles of giant pot holes ahead of me, I decided to pray. It seemed like a profitable endeavor for the moment. As I prayed, Rev, our Episcopal priest, came to mind.
Rev was, to me, a father that I never had, a brother in our faith, a minister of sacrament, and the dearest of friends. A mighty conversationalist, from the Yankees to Dietrich Bonhoeffer, Rev's mind was sharp and ready for any topic. Although I had switched communions from evangelicalism to the Episcopal church twenty years ago, Wifey and I had been confirmed in the Episcopal church only 5 years earlier. My reasons for changing denominations were manifold: I had grown an interest in monastic meditation, especially Lectio Divina – praying the Scriptures. I had grown tired of hour-long evangelical sermons and teachings, which invariably focused on the pastor and his ability, or lack thereof, to excite the congregation with magnificent oratory. Now, in the Episcopal church, the Sunday service focused on the Eucharist – the Lord's table, and His presence in communion.
I had formerly been involved with charismatic churches and mainstream denominations, which served the sacrament only once per quarter – keeping in tradition with the old circuit riders. Their congregations began in settlements located deep in the eastern woods and in the mountains of Appalachia. A circuit rider was a preacher who ministered to a handful of congregations. Many of these preachers traveled on horseback, proclaiming the Gospel throughout the back country. It was normal back in the 1700's for people to wait months for a circuit rider visit, and from what I've read, this is how the tradition of serving communion once per quarter got started, but historically, the bread and wine were served at least once a week. From reading about the English Reformation, I became convinced of the centrality of the Eucharist – that Jesus Himself should be the reason we get together on Sundays, but it's only an opinion of mine, and not necessarily the indisputable truth.
Rev was full of knowledge about all these things, and encouraged me to follow my heart in all these matters. The result – we became, in an odd way, of one mind. We were both fans of Thomas Merton, a famous Cistercian monk who became a hermit within his monastery. Merton had written books on Christian contemplation. My favorite: New Seeds Of Contemplation, which helped me get through many painful times.
Rev had visited me often in the L-TACH, bringing with him his spirit of transcendental peace, his love and care for me, oil for healing prayer, inspiring Scripture, but most of all, our friendship. As the ambulance tore through the tormenting pot holes, I wondered how I'd get along without his frequent visits.
Visit Part I of Barry's Ambulance series and check back soon for Parts III and IV.
This article represents the opinions, thoughts, and experiences of the author; none of this content has been paid for by any advertiser. The HepatitisC.net team does not recommend or endorse any products or treatments discussed herein. Learn more about how we maintain editorial integrity
here
.