Ambulance I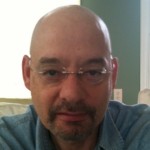 By Transplanted

·

April 12, 2015
Most people have an easier time with transplant than I did. Most can go into transplant with confidence. When I first registered, I was told I'd get the surgery, spend a few days in the hospital, then go home. Nobody was expecting me to decompensate so quickly. Only a couple of doctors at the L-TACH where I waited knew how sick I was, and they were unfortunately slow at sharing this information with the Transplant Center. The reason may have been that they expected the ambulance ride would kill me, or that they would find me dead in the middle of the night, which is exactly what happened to my roommate.
I was awakened by the sound of someone closing the privacy curtains around my bed, so I couldn't see all the experts rush into my room and put this poor man on the floor. I heard the sounds of the whole event: people calling his name, hoping for response, commanding him to breathe, yelling, "Clear!" as they tried to shock him back into this world. I listened for two hours, praying this guy would make it. I'd seen his family at his bedside, coaxing him to speak, trying to activate his memory with visitors, but he was in a spiral of decline, and so was I. He passed away that night.
A few nights later, somebody woke me up and said, "It's time to go. They're waiting for you at the Transplant Center. Your wife has been notified. The ambulance is on its way."
It was, at the time, the most unimaginable thing. I could hardly believe I'd held on so long in such a wretched place. It was J.T. who taught me how to fight. J.T. was a war hero and physician/surgeon from WWII. He was moving into his 80's, and was well-known in our little church. He surprised me with his confession that he was not a person of faith, but came to church in support of his wife, whom we all loved. Despite his feelings about Christianity, he was at my bedside many days in a row, making tea for me, entertaining me with war stories, and pushing me to fight. That's what he kept telling me, "You've got to fight for your life, harder than you've ever fought for anything."
J.T. was my height, slim and muscular. Even at his age, he spent most of his spare time skiing in New England. He said, "You need to think about your wife. I've spoken with her. She needs to see you fight." I had no idea what he meant. He said, "When she visits you, I don't care how rotten you feel, you need to put on a strong face for her. She needs to know you're in this to win. You need to be the one comforting her, and if you really have faith in God, you'll do this for her." He said the thought of losing me was tearing her to pieces. I had never hidden my suffering from her. It never dawned on me to be dishonest about my condition. How could I lie to her? J.T. convinced me: if I was truly in the fight, it wouldn't be a lie, so from then on, I steeled myself. When she came to visit, I greeted her with a smile. I told her not to worry: I had no intention of dying. Everything would work out, and before long, we'd be back together again, doing our favorite things. And now, with time and liver failure against me, I opened my eyes. Two guys came into my room with a stretcher. The ambulance had arrived.
Visit Part II of Barry's Ambulance series and check back soon for Parts III and IV.
This article represents the opinions, thoughts, and experiences of the author; none of this content has been paid for by any advertiser. The HepatitisC.net team does not recommend or endorse any products or treatments discussed herein. Learn more about how we maintain editorial integrity
here
.