The Physical and Emotional Toll of Hep C: Results from the Hepatitis C In America Survey
A diagnosis of hepatitis C affects more than just the body. Many don't realize the full impact hepatitis C can have on someone's life. We conducted a survey to better understand the symptoms and experiences of people living with hep C. The Hepatitis C In America 2017 online survey gathered insights from 609 individuals who tested positive for hepatitis C infection and have been diagnosed with chronic hepatitis C infection. Of the 609 survey-takers, 49% were reported to be cured of hep C and 51% were not yet cured at the time of the survey.
Hep C Symptoms Affect the Cured & Uncured Alike
Both those living with hep C and those who have been cured experience a range of physical and emotional symptoms. Fatigue is the most commonly experienced symptom, with 85% of those uncured and 79% of those cured currently experiencing fatigue. Other common symptoms include joint pain, muscle aches, depression, anxiety, and trouble sleeping.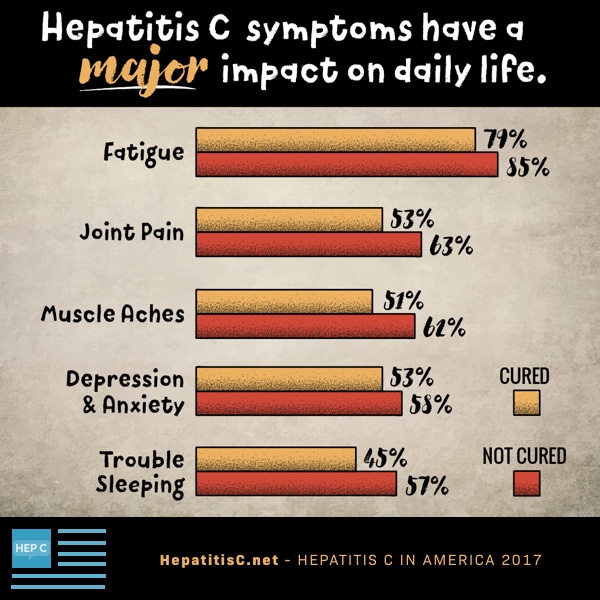 Many Make Lifestyle Changes After a Diagnosis
In order to combat some of the symptoms of hep C, many made lifestyle changes. 73% of those experiencing symptoms noted that they try to stay hydrated and 67% avoid alcoholic beverages. Others also try to maintain a healthy diet, sleep well, and steer clear of stress to help manage symptoms.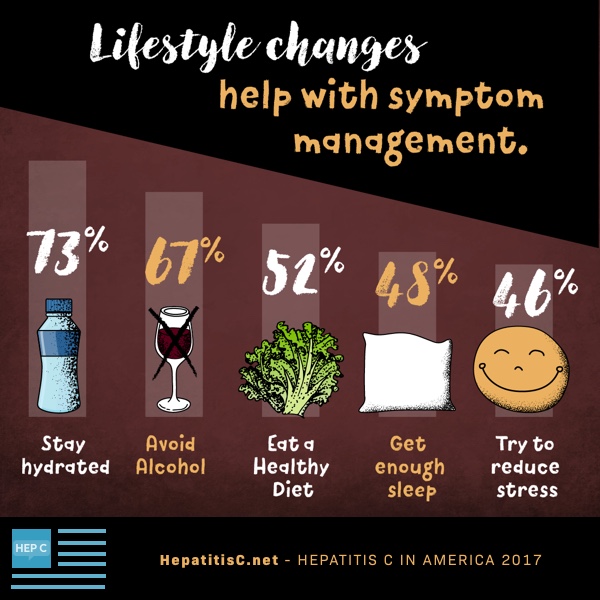 Barriers Prevent Many from Accessing Treatment
Cost is the leading barrier to treatment, with 53% citing financial barriers and 25% reporting insurance denials have prevented them accessing treatment. 19% of those not yet cured cite fear of potential side effects as a barrier, while 19% have not yet made the decision to treat.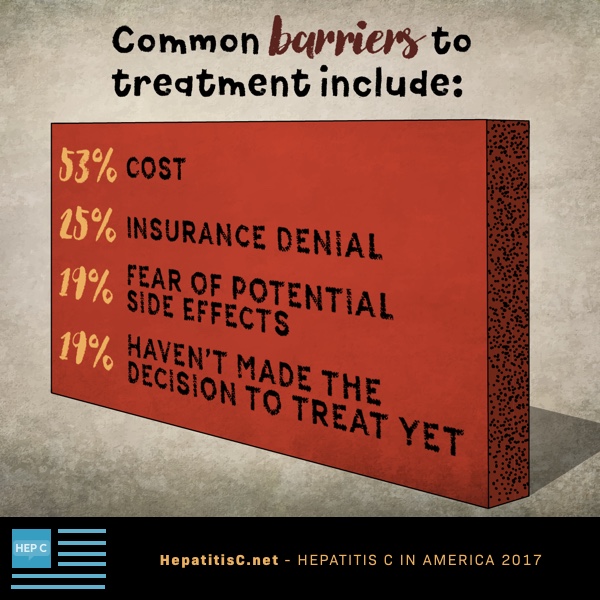 Most Choose to Reveal Their Diagnosis
While revealing a hepatitis C diagnosis is an incredibly personal decision, 99% of survey takers reported sharing their diagnosis with at least one person. People share their diagnosis with their doctors, friends, family members, spouses, children, and parents. While hep C stigma still exists, 50% those who have shared their diagnosis feel that they have nothing to hide.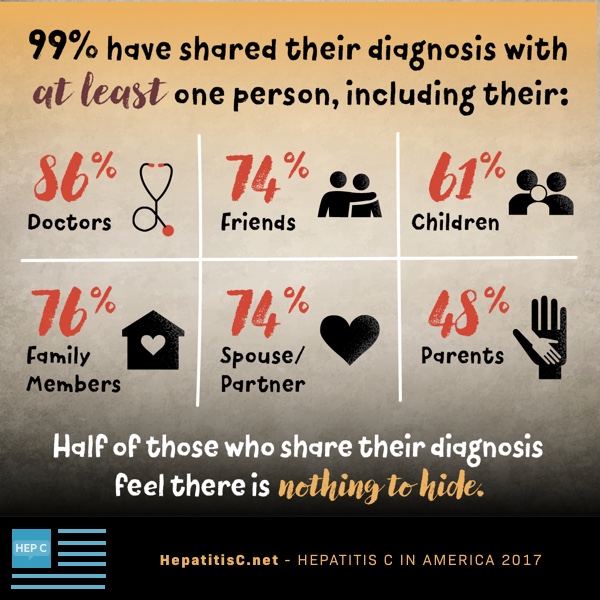 Life After a Cure
For many, the journey with hep C continues even after reaching SVR and being free of the virus. Of those who were cured, 86% of respondents noted they still have some concerns about their future, including worries of health complications that may develop due to the virus or treatment. While they may be free to hep C, the majority of respondents (93%) still felt like they were part of the hepatitis C community.