The Hepatitis C In America survey was conducted between December 2014 and January 2015. The primary goal of the study was to establish an understanding of the current state and trends of patients affected by Hepatitis C.
The survey included 156 questions on a broad range of topics. A total of 798 qualified individuals started the study and 403 completed the study.
To qualify for the survey, participants had to have Hepatits C, and be over 18 years old and a US resident or US citizen living abroad.
The study was solely developed and funded by Health Union, LLC which does not manufacture, sell nor market any product to diagnose, prevent or treat Hepatitis C or any other disease.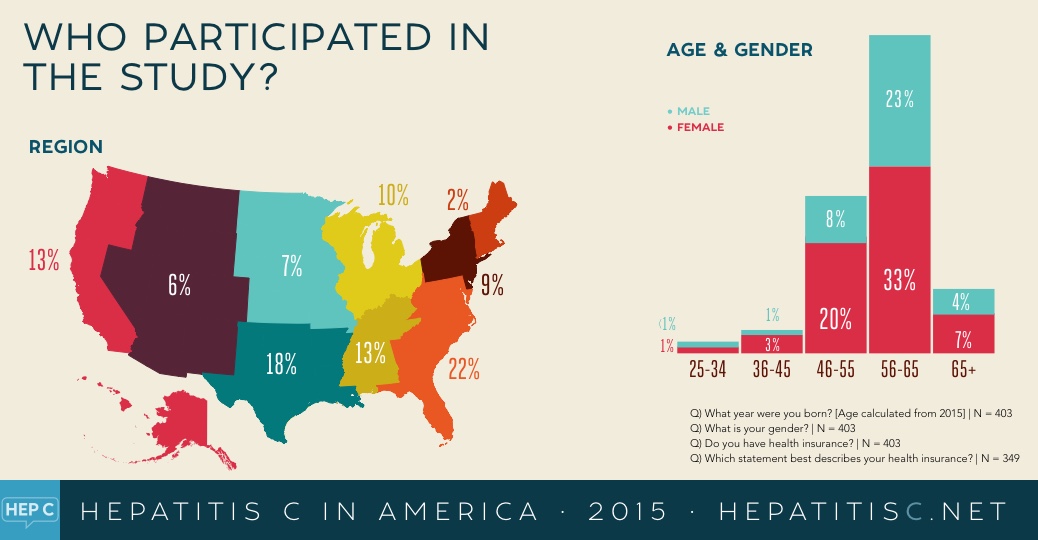 Similar to the general population of people with hepatitis C, the majority of respondents were over the age of 50. Interestingly, more survey respondents were female than male, which differs from the distribution of male vs female patients in the general population.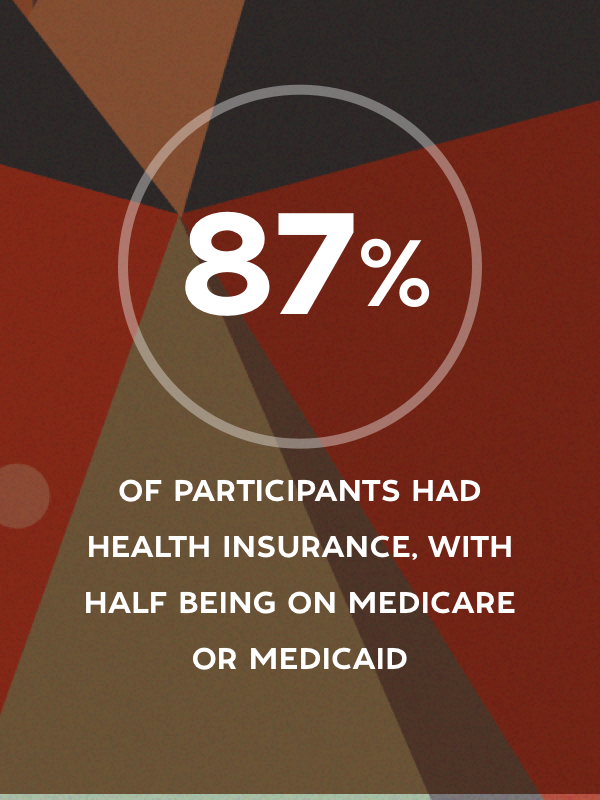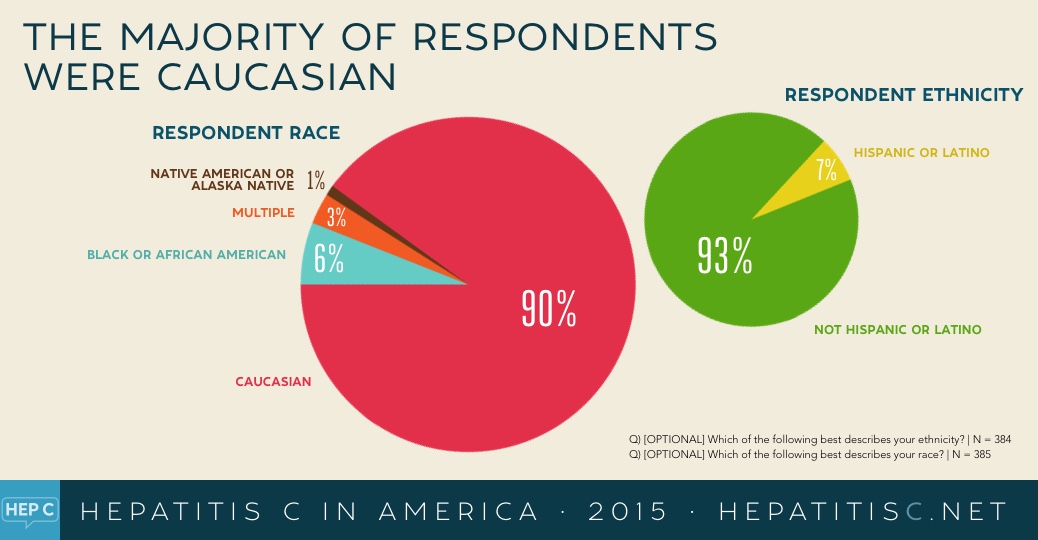 The vast majority of survey respondents were Caucasian, while 6% were Black or African American. In the general US population, Hepatitis C is more prevalent in African Americans than in Caucasians.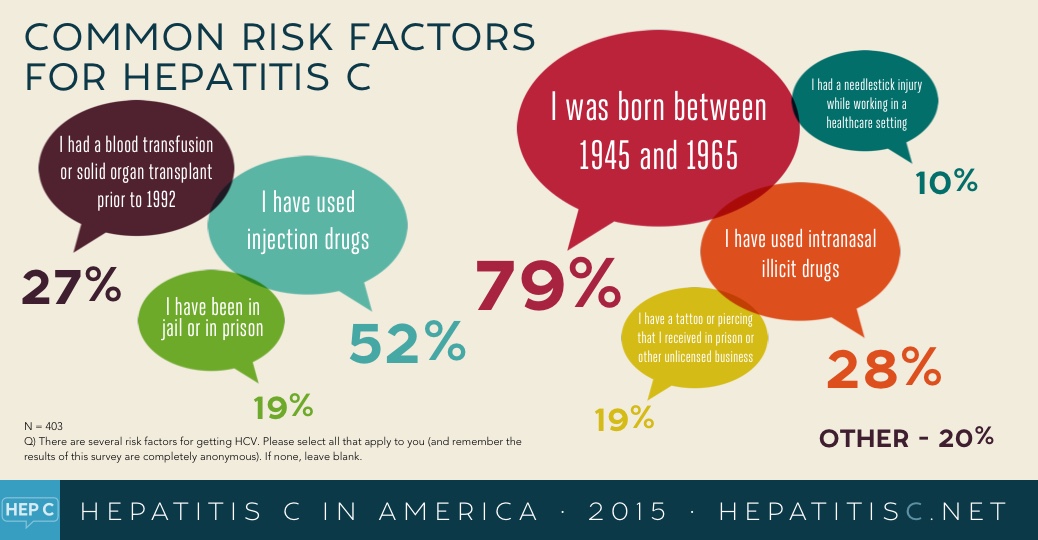 The most common risk factor among respondents was being born between 1945 and 1965, followed by use of injection drugs. Other risk factors included blood transfusions or organ transplant prior to 1992, and spending time in prison.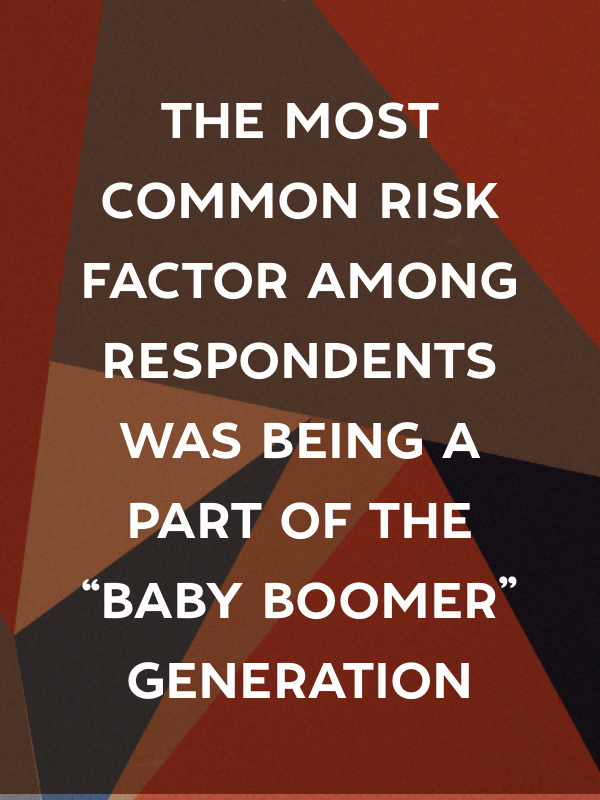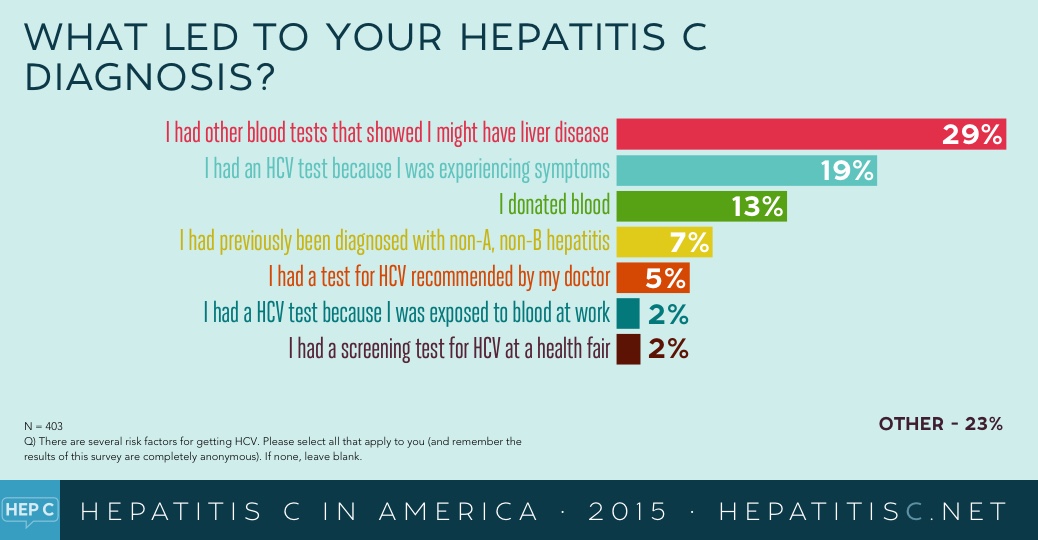 More respondents were diagnosed through blood tests indicating liver disease that required follow-up testing for the Hepatitis C virus than those who were actually experiencing symptoms of Hepatitis C itself.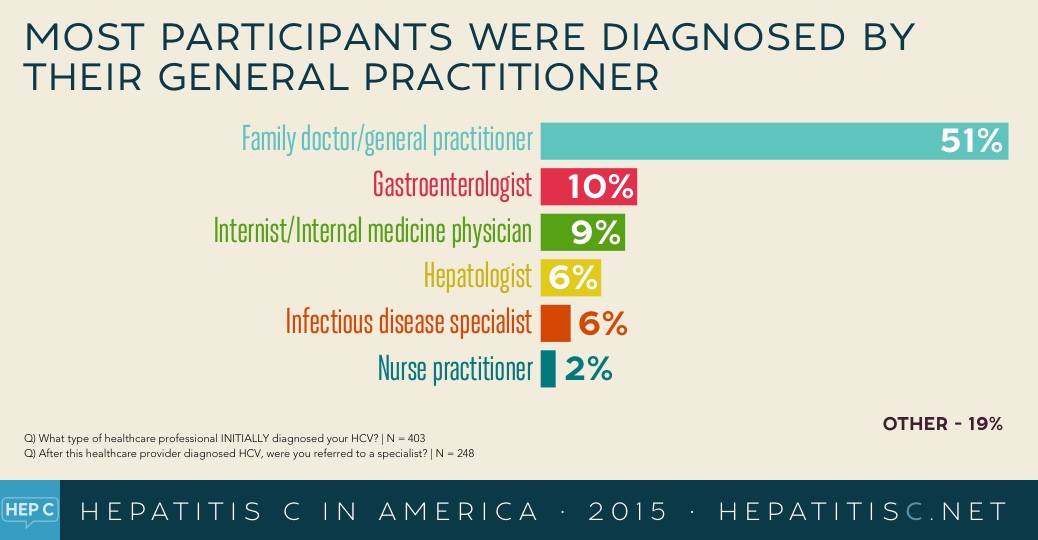 The majority of respondents were diagnosed with hepatitis C by their general healthcare practitioner. Upon receiving a diagnosis, the most respondents were referred to a specialist within 3 months.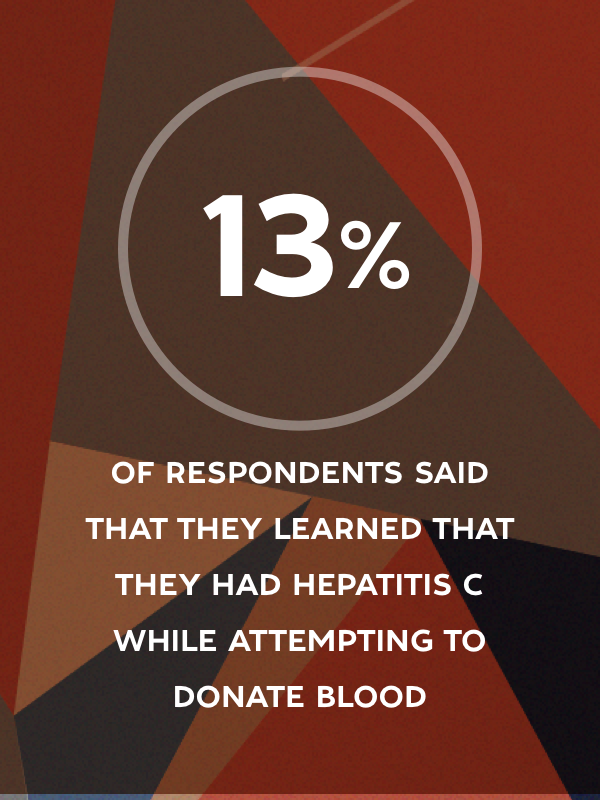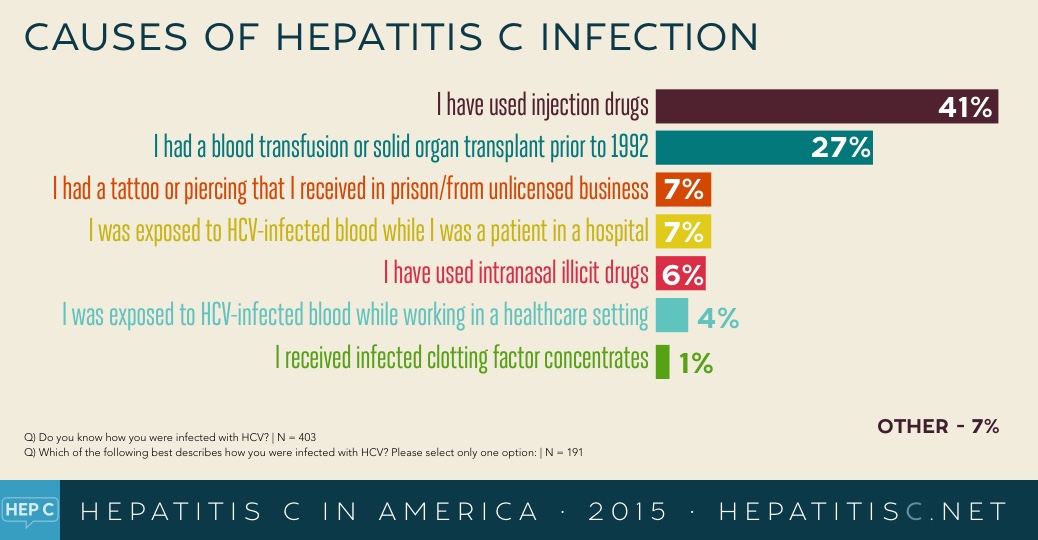 While injection drug use and blood transfusion/organ transplant were the most commonly reported cause of hepatitis C infection, many of our respondents did not know how they contracted hepatitis C.
Fatigue, muscle aches, and joint pain were the most commonly reported symptoms at the time of diagnosis. Nearly a third of respondents said they weren't experiencing any symptoms at the time of diagnosis.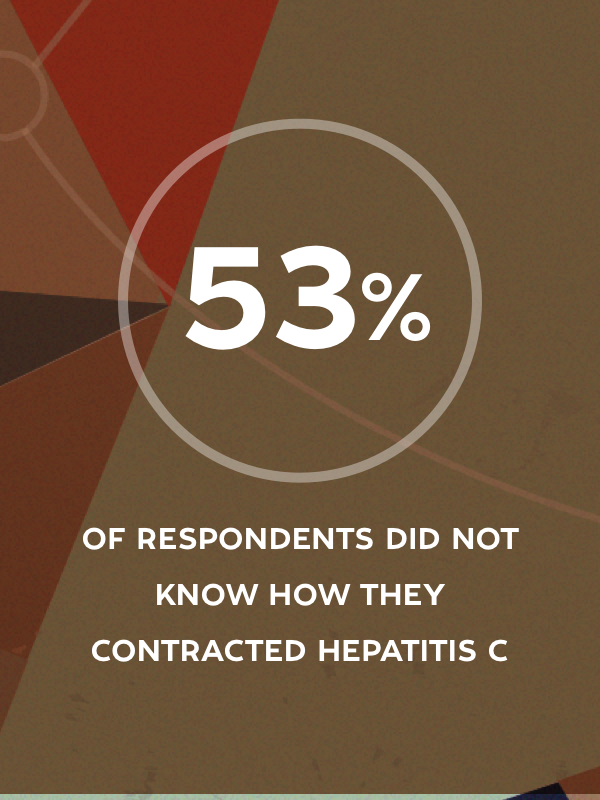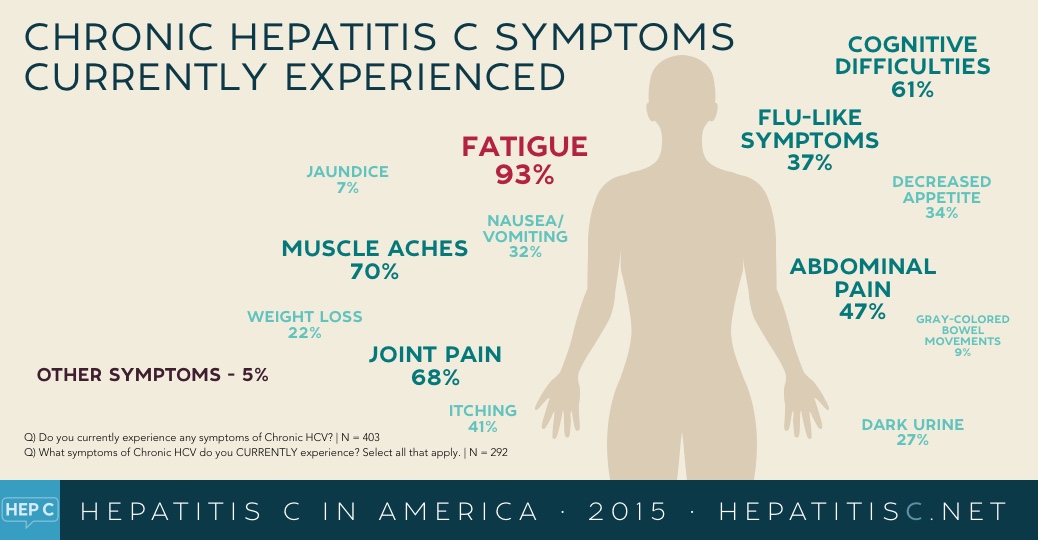 The majority of respondents reported that they currently experience chronic HCV symptoms, with fatigue being the most common symptom. Muscle aches, joint pain, and cognitive issues also occurred in more than half of respondents.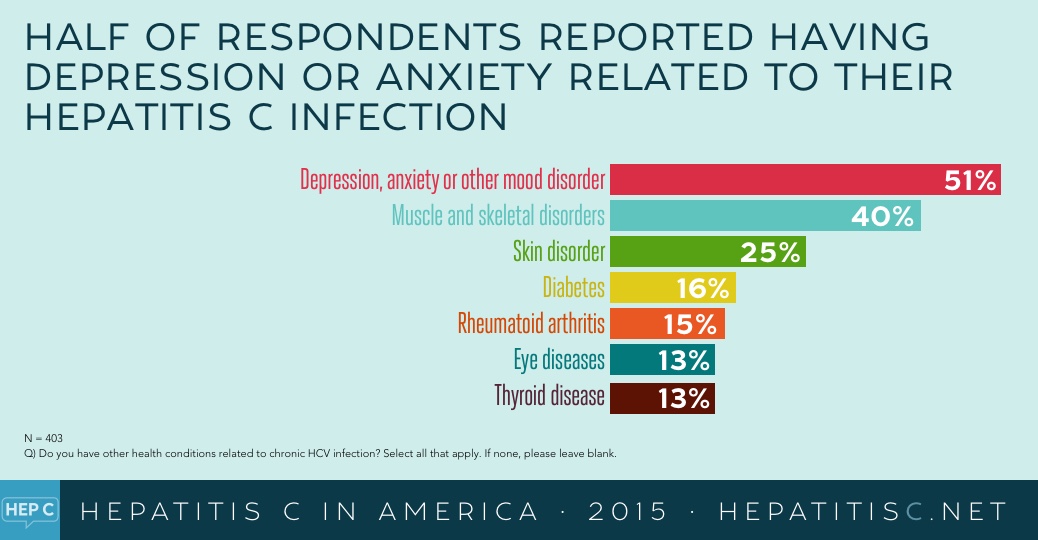 Depression and anxiety are commonly reported in people with hepatitis C. In addition to these conditions, respondents also reported experiencing muscle and skeletal disorders like arthritis and loss of bone density, and skin disorders, such as purple spots and severe itching.
In addition to depression, a noticeable proportion of respondents said that they experience sleep issues, high blood pressure, and gastrointestinal and weight concerns. Neuropathy, migraine, lung or breathing disorders, diabetes, and fibromyalgia were among the additional health concerns experienced by respondents.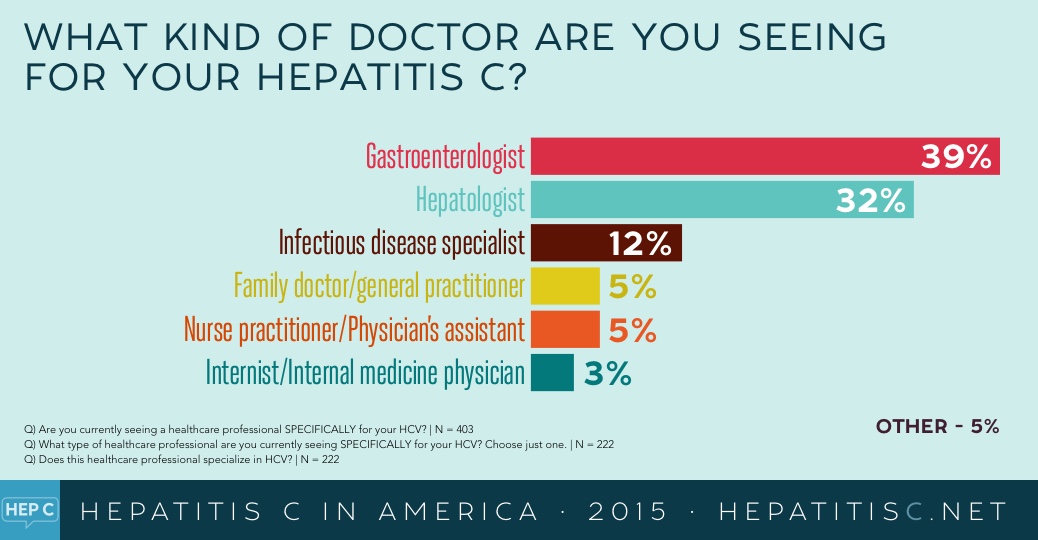 A total of 55% of respondents said they see a health care provider specifically for their HCV, and the majority of those providers specialize in hepatitis C. Most of those who are receiving care for their hepatitis C were being treated by a gastroenterologist or a hepatologist.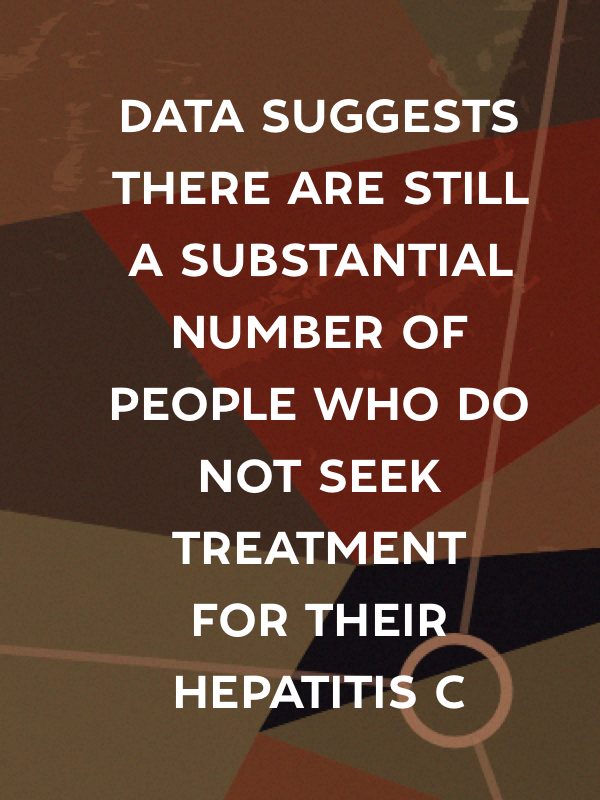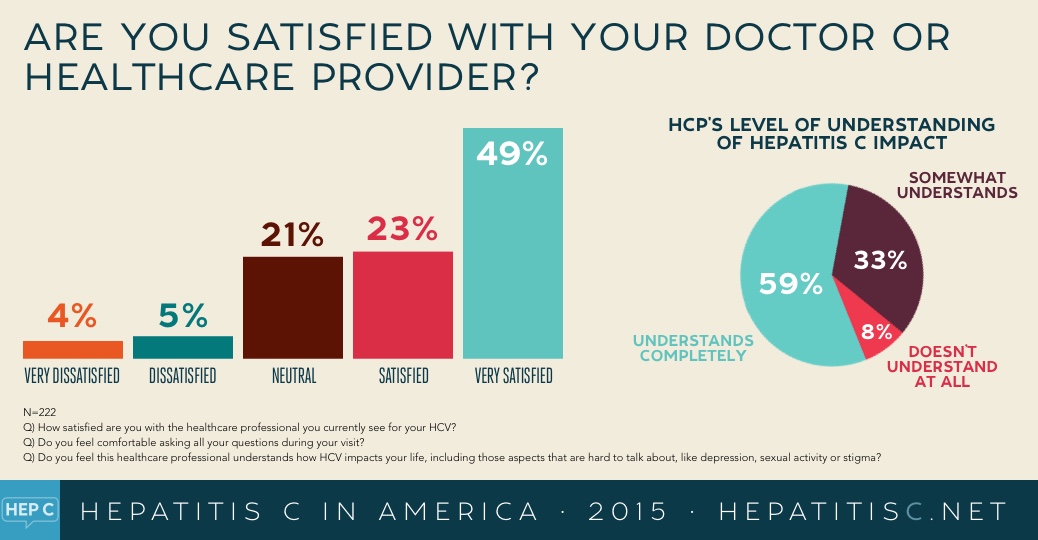 The majority of respondents who see a health care provider for their hepatitis C noted that they are satisfied with that provider. Most respondents also felt comfortable asking their healthcare provider questions during their visits, and noted that they feel like their HCP does understand the overall impact hepatitis C has on a person's life.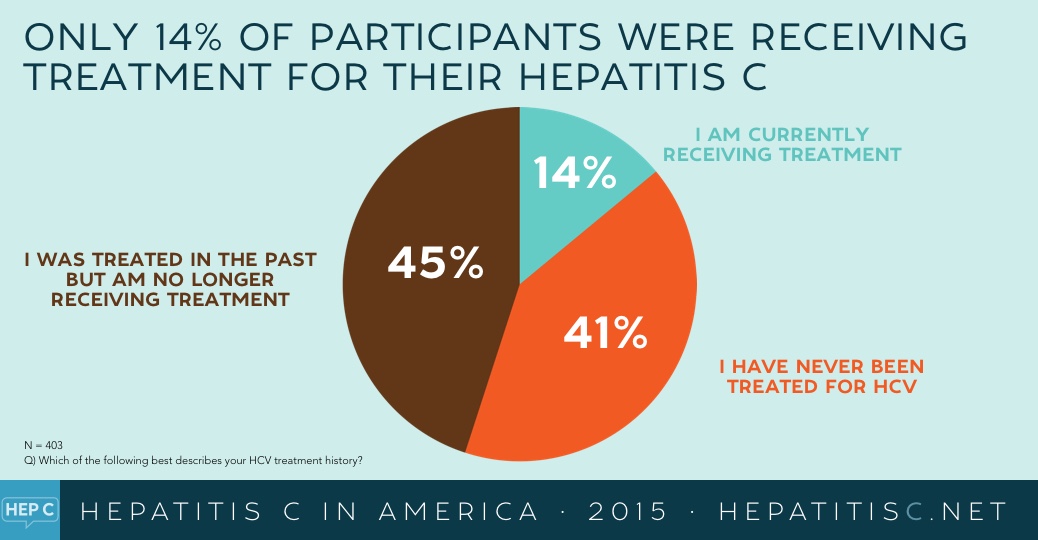 A large proportion of respondents reported that they have never received treatment for their hepatitis C.
There have been several new treatments for HCV approved by the FDA, which may be the reason that 25% of respondents said that they were waiting for new treatments to be made available.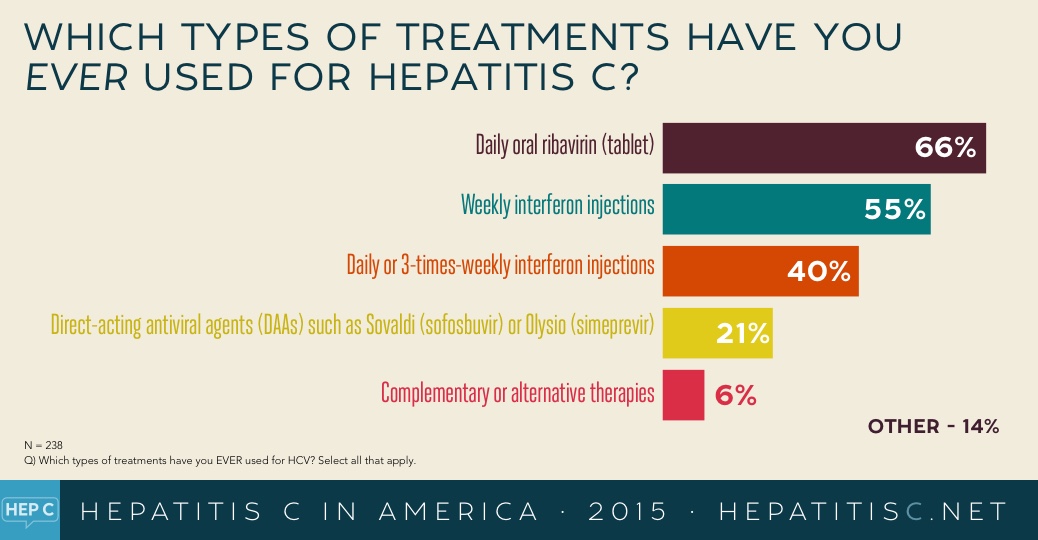 Daily ribavirin tablets or weekly interferon injections were the most common hepatitis treatments ever used by respondents. Other treatments used included daily or 3 times weekly interferon injections, direct acting antiviral agents, and complimentary or alternative therapies.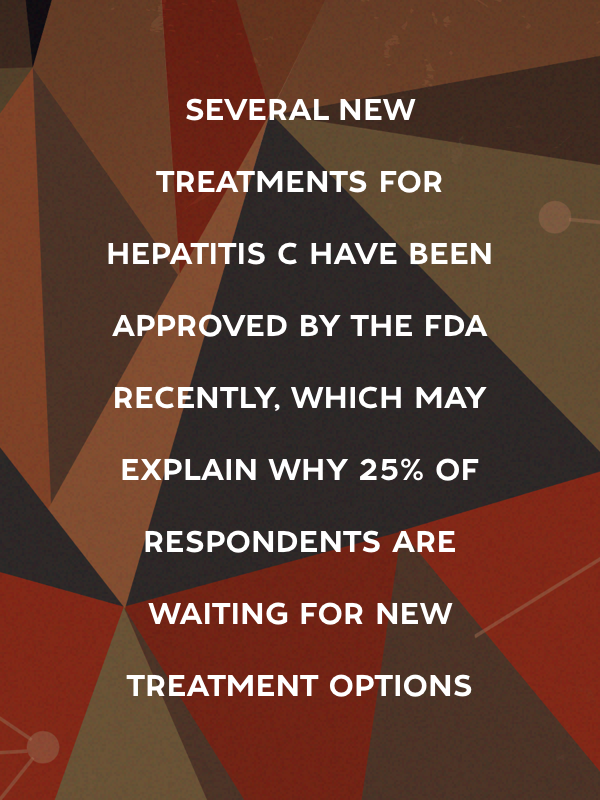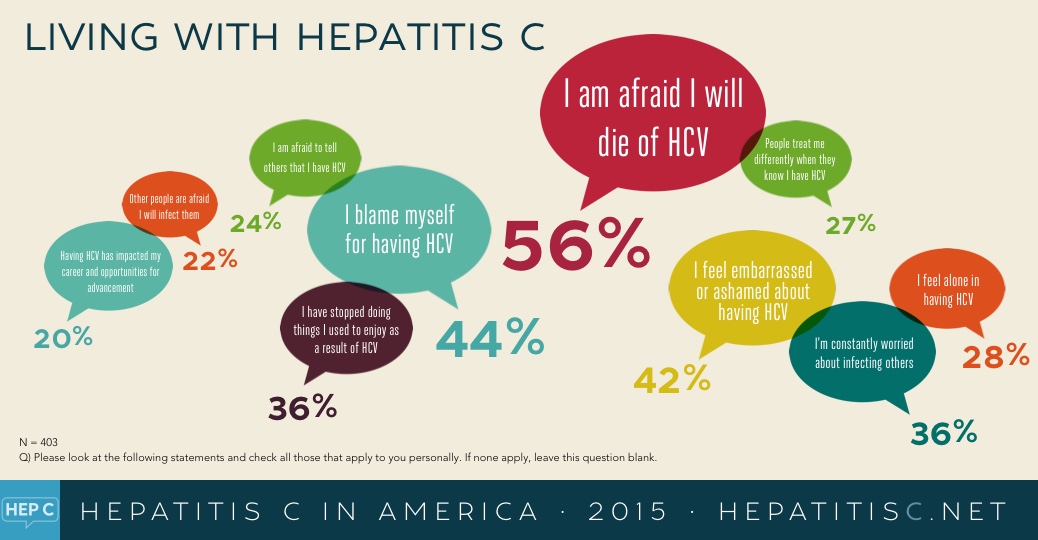 More than half of respondents said that they are afraid that they will die from hepatitis C. A significant number of respondents also said that they have self-blame, or that they are embarrassed that they have hepatitis C.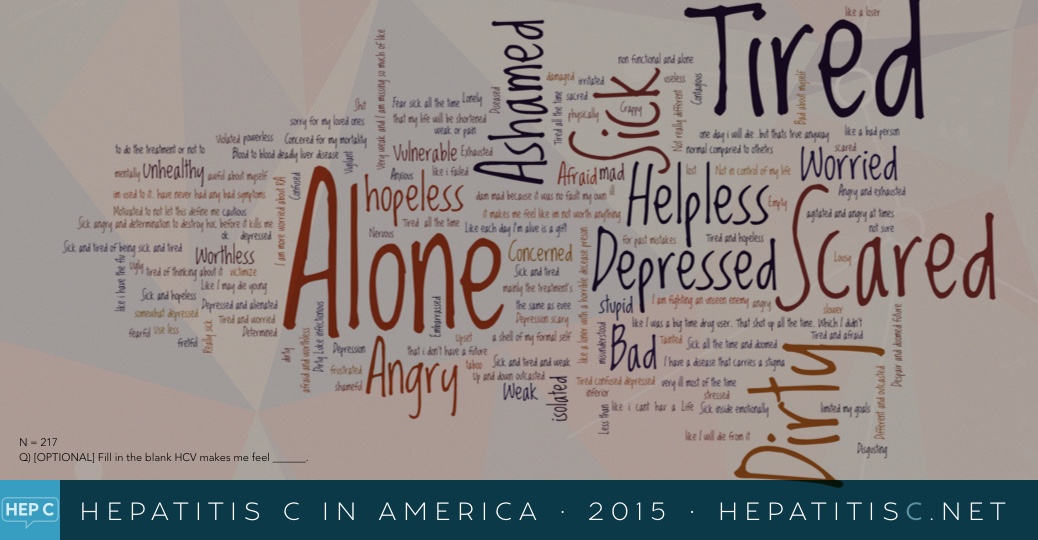 There are a whole host of emotions that come with a diagnosis of hepatitis C, and our respondents shared many of theirs with us. Many respondents said that hepatitis C makes them feel alone, angry, tired, and scared.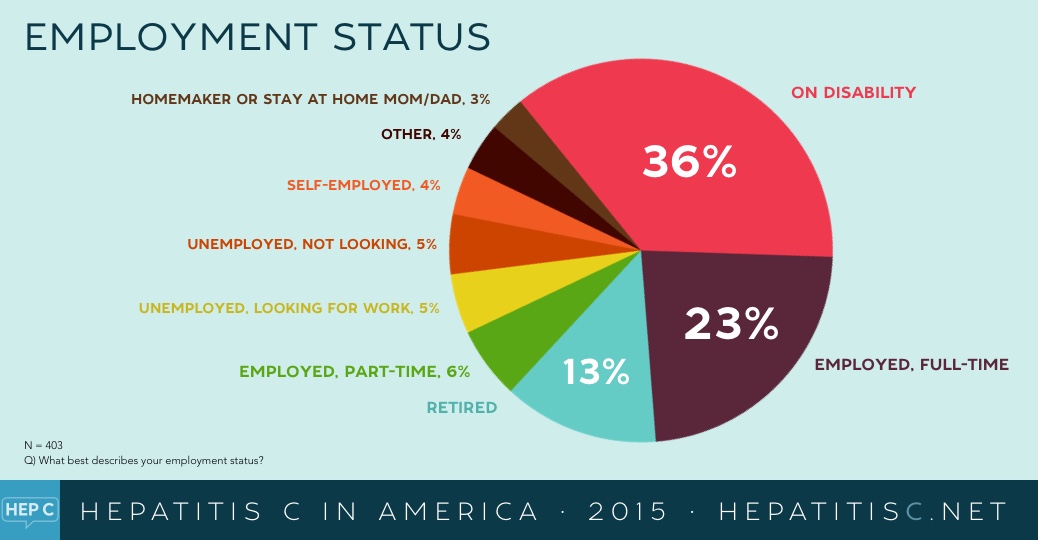 Most respondents said that they were not currently working. Approximately one third of respondents said that they are on disability.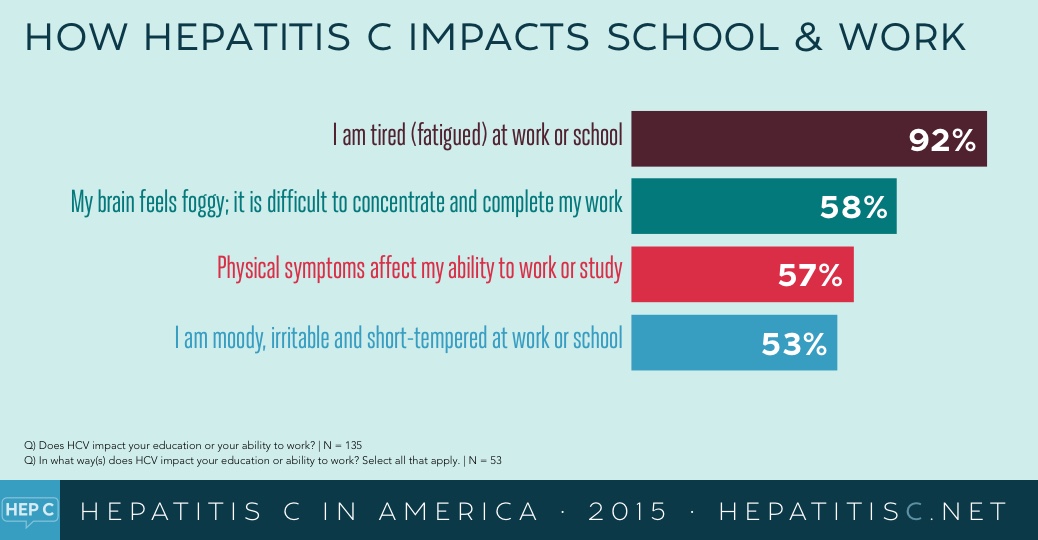 A total of 39% of those who work or go to school said that hepatitis C impacts their education or ability to work, with fatigue being the biggest factor. More than half of those who feel hepatitis C impacts work or school said that they have trouble concentrating, they have physical symptoms that impact their abilities, or they feel moody or irritable.
This article represents the opinions, thoughts, and experiences of the author; none of this content has been paid for by any advertiser. The HepatitisC.net team does not recommend or endorse any products or treatments discussed herein. Learn more about how we maintain editorial integrity
here
.