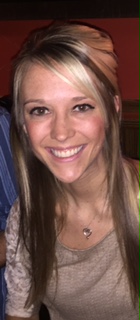 Corinne was previously an advocate for HepatitsC.net.
My name is Corinne Miga, I am a Licensed Master's Social Worker born and raised in Buffalo, New York. I earned my Master's degree from the University of Buffalo in the spring of 2012. For the past two years, I have been employed as a Medical Social Worker in the Immunodeficiency clinic at Erie County Medical Center (ECMC). In my role, I have the privilege of working in the HIV/HCV Co- infection clinic, offering support to patients coping with these chronic illnesses. I also assist with eliminating barriers that prohibit engagement in their medical care; this includes benefit management and navigating health insurance. Ultimately the goal of our interdisciplinary team is to provide each patient living with both HIV and Hepatitis C an opportunity for Hepatitis C treatment. As the primary Social Worker for the Co-infected patient population, I have also originated and facilitate a bi-weekly peer-based support group that provides education across a broad spectrum of disciplines including pharmacy and nutrition. I have developed a passion for working with these individuals whose resiliency inspires me every day.
I have also been an educational consultant for the AIDS Institute; I have facilitated educational courses related to HIV/AIDS, Hepatitis C, and sexually transmitted infections to community participants.
This past spring, I had the honor of attending the Caring Ambassador's Advocates Unite! Conference in Washington, D.C. The conference gathered constituents from across the nation to meet with elected Congressman/women to gain support for the Viral Hepatitis Testing Law of 2015 (HR 1101/SB 1287). I will continue to maintain involvement as an advocate and am dedicated to the goal of enhancing prevention, education, linkage to care, and treatment for individuals affected by HIV and HCV.
In my spare time, I love spending time with my family and friends, my new fiancé, and of course my puppy. I love to shop, travel, and I am up for just about any adventure, as long as it includes a meal along the way.
Click here to read all of Corinne's articles on HepatitisC.net.